London.‒ At 18:30, on Thursday, 14 March 2019, the Cultural Section of the Cyprus High Commission in the United Kingdom inaugurates George Koumouros' contemporary painting exhibition entitled "Portrait Landscapes" curated by Megakles Rogakos.
Koumouros is an accomplished painter originating in Cyprus. A climatic moment in his career are his illustrations inspired by Homer (2008), which were exhibited at the archaeological museums of Delphi, Thessaloniki and Igoumenitsa, and led to the publication of My Own Iliad (Anaplous, 2013).
Dr Rogakos writes that the question "what remains of the past and what will follow in the future?" preoccupies Koumouros, who visualises the specific anxiety in the works he painted during the period 2012-2017. His otherworldly pictures present personified landscapes or landscape portraits. These particular landscapes are deserted and silent. They are landscapes that once had life and now are permanently worn out of use or abuse. Without the slightest disposal of amelioration, Koumouros represents his prophetic vision. Perhaps with irony or sarcasm, he signals the end of civilisation. In his attempt to describe his paintings, the painter resorted to the writing of verses that were spontaneously revealed to him, inspired by his own creations, which now accompany them in the catalogue as their own words. He makes his painting narrative a possession of all of us. His images have wide appeal and timeless value. He breaks free from realism, and instead borrows tools from the surrealist and the expressionist styles, so that with archetypal symbols on the one hand and with passion and/or emotion on the other, he may associatively express this essence. Koumouros wrote about the vision that imbues his works. He spoke about the absence of people, the need for coexistence and the compassion of nature. He concludes with the wish that his Portraits Landscapes are a potential talisman for a difficult and narrow way. As a talisman that they may be transmissible of the divine grace, able to deter and prevent evil, and bring good and happiness.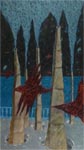 A 68-page catalogue, fully illustrating the works, with an introduction and poems by Koumouros and an essay by Dr Rogakos, accompanies this exhibition. On display will be a selection of 24 works from the Portraits Landscape series.>
The Portraits Landscape exhibition will run at the Exhibition Halls of the Cyprus High Commission, 13 St James's Square, London SW1, from 14 March to 5 April 2019.
The exhibition takes place under the auspices of the High Commissioner of Cyprus, Mr Euripides Evriviades. The artist gratefully acknowledges the support by the Cultural Services of the Cyprus Ministry of Education and Culture.
---
Public Information
Exhibition: George Koumouros " Portrait Landscapes ", curated by Megakles Rogakos
Venue: Exhibition Halls, Cyprus High Commission, 13 St James's Square, London SW1
Opening: Thursday, 14 March 2018, at 18:30
Duration: 14 March – 5 April 2019
Operation: Monday to Friday, 10:00 - 16:00
Communication: Dr Marios Psaras, Cultural Counsellor, Cyprus High Commission, +44 (0)20 7321 4148, marios.psaras@culturalchc.co.uk
Short Biography of the Artist
George P. Koumouros was born in Yialousa, Cyprus, in 1955. He studied mathematics at the University of Athens (1980), painting at the Pythagorean Academy of Fine Arts (1989), and received a Master of Arts diploma in Making Educational Films from Middlesex University (2005). He taught Mathematics in Secondary Education in both Greece and Cyprus. Since 1995, he has been working at the Cyprus Pedagogical Institute for the production of audio-visual material. He has directed 28 documentaries. He keeps his own painting workshop since 1982. His work can be found in both public and private collections.
Short Biography of the Curator
Megakles Rogakos holds a Bachelor's degree in Art History from The American College of Greece (1997); a Master's degree in Arts Policy & Management from the City University, London (1998); another Master's degree in Art History and Theory from Goldsmiths College, London (1999); and a PhD in Philosophy and History of Art from the University of Essex. In 2000-2004 he worked as an information officer at the Tate Gallery, conducted scholarly research and curated a series of multimedia exhibitions. In 2004-2012 he held an appointment as ACG Art Curator at the American College of Greece. Since 2012, he works as an independent art historian and exhibition curator. He also publishes reviews of exceptional art exhibitions mainly at www.elculture.gr , but also at www.visuelimage.com .